The Finance Coach is dedicated to providing the latest news and relevant articles to help keep you informed and up to date.  The best way The Finance Coach does this is through different forms of MEDIA.  One of our most popular forms of communications is our free newsletter to people interested in learning how to establish a 'game plan'. Fill out the information below to receive this valuable resource.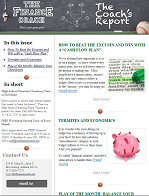 SIGN UP for our Newsletter:
AND
Click here to view our NEWSLETTER ARCHIVED ARTICLES or click the search button to the upper right hand side of this website to search by topic.
One Response to "Newsletter"